Solution
Create Cultures + Talent Brands
Culture and strategy working together.
Your organization is unlike any other. You know that, but do you know why? We help you bring the key elements of your organization's story to life in a way that sticks with people and reinforces why they should stick with you.
When it comes to culture, brand, and strategy, we don't view the three as competitors. They're at the table together. When they work in tandem, we have a clearly defined culture + talent brand and strategy that are aligned. They are what carry organizations through the good times - and especially the tough times.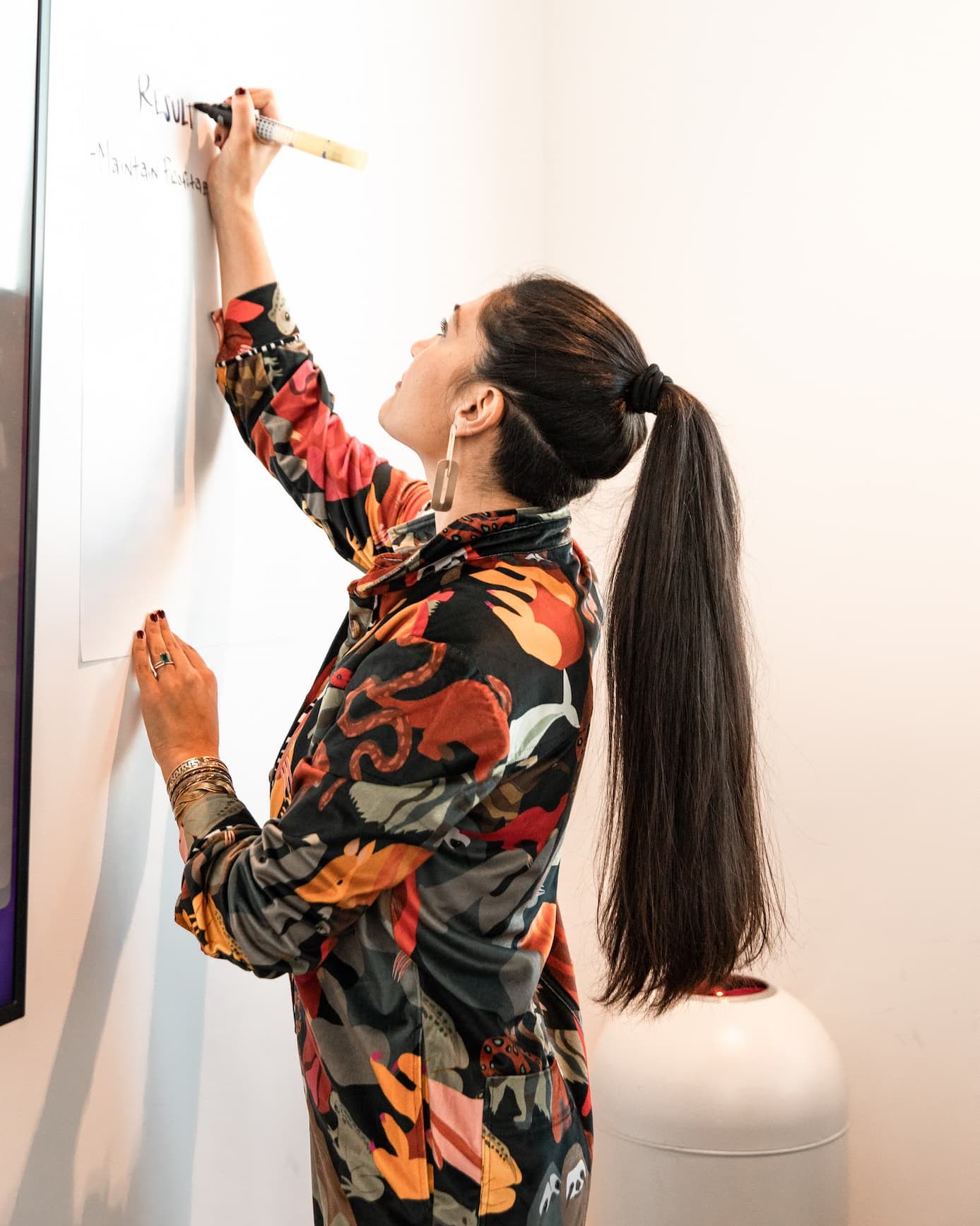 Once we have a deep understanding of your culture and voice, we can start to evolve your organization's story.
In-Depth Discovery + Immersion
We conduct in-depth discovery sessions with key stakeholders in your organization. We also provide a look at all systems, processes, practices, and experiences that are talent-facing. In addition, we complete an external view of your talent brand by conducting a complete talent brand analysis. We also have a little secret sauce we apply to our discovery to immerse ourselves in your culture.
We conduct our proprietary humanlyX© survey in partnership with our partner platform to get feedback from your employees about your culture and voice. These surveys help us to identify strengths and areas for improvement.
Some topics we uncover and work with you to define include culture narratives/norms + practices, culture personas, and end-to-end employee experience feedback from each phase of the employee lifecycle.
Focus Groups
We partner with your team to conduct focus groups that help us understand your team's day-to-day experience, culture, and practices. These sessions are a great way to get input from a cross-section of your organization to ultimately build a shared understanding of your culture and the employee's day-to-day experience.
Creating Cultures + Talent Brands
Discovery + Planning
Our discovery checklist is provided, and the survey is drafted and approved.
Development + Launch
The survey is launched, preliminary results are reviewed, and then focus group content is drafted and approved.
Info Gathering + Analysis
Focus groups and a culture walk are conducted, feedback is summarized, survey analysis is completed, and preliminary results are reviewed.
Summarize + Recommend
Feedback is reviewed holistically, trends and themes are noted, the executive summary documenting findings and recommendations is drafted and reviewed, and future scope is discussed.
Culture Discovery
Through a full discovery into your culture using workshops, humanlyx insights survey, and talent-facing processes, practices, documents, and collateral, we'll provide customized language and priorities on how to embed culture and humanized employee experiences at every level.
Culture + Strategy Map
Align culture to business strategy to ensure the culture and employee experience facilitate work aligned with company goals.
Culture "Code"
Specific behaviors/mindsets that support your values and guide day-to-day decisions, behaviors, and interactions of every person within an organization; the "decoder."
Employee Value Proposition (EVP) Concepting
Why you should work here/join us and why you should stay; the deal struck from employer to employee describing what it can uniquely offer them.
M&A Culture Integration
Through a culture discovery, identify the areas of alignment and disconnect between merging organizations, reimagining a cohesive culture to integrate employees more seamlessly.
Culture Guides, Videos, Experiences + Kits
Develop culture collateral guides (the modern handbook) focusing more on the people and less on the jargon. Develop videos to showcase your culture and map experiences and culture kits to ensure consistency in the experience to really showcase how the culture lives throughout every step of the employee journey.
Communications Strategy
Map out where communication content is generated, chains of approval, channels for distribution, and nuanced messaging to ensure communication is distributed to the right people, in the right way, at the right time.
Marketing Campaign Development
Full campaign strategy development and content development based on final campaign (i.e., social, print, video).
Recruitment Marketing
It is not enough to post job openings and wait for applicants in today's climate. Companies must proactively post thought leadership, build and engage a talent community, and actively seek out top talent.
Culture Video
Customized video unique to your culture, including concept, storyboard, and full production. (Culture discovery required).
Culture Microsite
A webpage dedicated to your culture and your employees. Walk prospective candidates through what it is like to work at your organization and highlight your culture, up to two (2) pages. (Culture discovery required).
Creating a strong talent brand can help your organization attract and retain top talent.
Once you are clear on the culture you want, it's important to ensure alignment between who you are on the inside and how it is reflected externally.
Building a human-centric talent brand is one way to do it.
The Steps to Creating a Strong Talent Brand:
Define your employer brand and the value proposition you bring to employees:
Begin by defining your employer brand. This involves identifying what makes your organization stand out from the perspective of a candidate or employee. Consider what sets your company apart and what you want to be known for, and build your Employee Value Proposition (EVP). We design your EVP to have pillars that are your own, which helps offer clarity to your talent community to determine if what you are offering is what they need.
Conduct talent brand analysis:
We then conduct research to understand your candidate personas and target audience, including job seekers and employees. This can involve surveys, focus groups, labor market analysis, reputation site review, and social media listening to gain insights into what they value in an employer and what attracts them to a particular organization.
Develop your messaging:
We develop your messaging based on our research, EVP pillars, and employer brand definition. This should be a clear and concise statement communicating your company's unique value proposition as an employer. It should be authentic, compelling, and tailored to your target audience.
Create a content strategy:
We then create a content strategy that aligns with your messaging and target audience. This can include full recruitment marketing campaigns, social media posts, SEO blog posts, videos, career pages, and other content showcasing your company culture, values, and career growth and development opportunities.
Leverage your best ambassadors, your current employees:
Your employees can be your best brand ambassadors. We create a plan to make it easy for them to share their experiences working at your company on social media and review sites. Highlight employee success stories and recognize and reward employees for their hard work and contributions.
Evaluate and iterate:
We offer services to continuously evaluate the effectiveness of your talent brand and adjust as needed. This can involve campaign management, tracking metrics such as applicant and employee retention rates, social media engagement/posting, and continuous ideation of new ways to tap into specific audiences.