Partners
Our Partnership Philosophy
Our clients span from hyper-local start-ups to global "Fortune" list toppers. The thing they all have in common is a drive to make work better for their people. That's where we—and you—come in.
We believe in humans and technology, people and products, tools and brains working together. We also believe that we're better at accomplishing this by working together with other organizations like yours. So, we believe in partnership.
We aren't partner agnostic, and we aren't partner exclusive, but we are partner choosy. We believe in a curated marketplace of partners that we trust and can confidently connect our clients to through referrals, content, and events.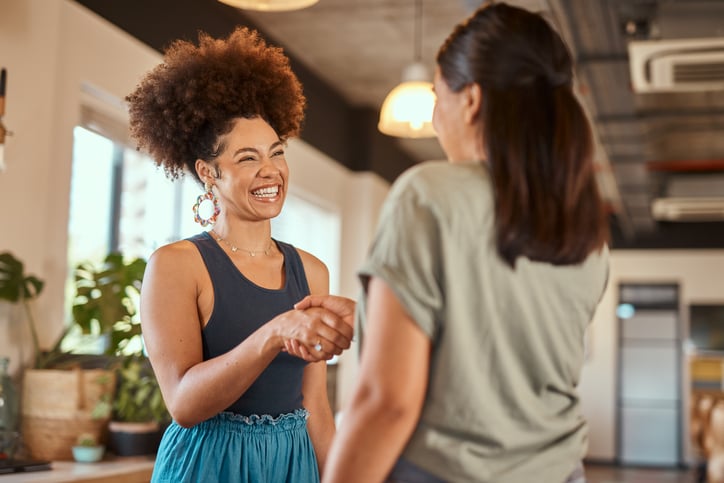 Humanizing the Workplace Together: Partnerships
Referral Partner Program

s
Together, we can accomplish lead generation, referrals to organizations of trust, and value-added services.
We do this through:
Mutual Referral Agreement: A percentage of the referred deal will be paid to the referring party.
Lunch & Learn Swaps: Our team will learn about your organization and identify opportunities for collaboration.
Co-Marketing/Content Pieces: We can cross-post content on our channels to boost awareness.
The Impact: Referrals for new opportunities.
C

o-Marketing + Content Partnerships
Together, we can use content marketing to reach new audiences, boost awareness, and acquire new customers. Content can also be a powerful tool for boosting your talent brand by aligning with topics your organization is passionate about and making that content discoverable for current and future employees.
We know content is key for spreading awareness, but it can be tough to make enough time for it and bring it to the finish line. Our approach solves that, and we do this through:
Collaboration: Collaborating on ideas and central content themes in a virtual partnership workspace using MURAL.
Templates: Plugging content into customizable templates like articles, infographics, and social graphics.
Distribution: Cross-posting on our websites, social channels, and other modes of reaching our audiences with useful value-add content.
The Impact: Content clicks, views, engagement, and referrals.
Event Partnerships
Together, we can boost your talent brand by showcasing your investment in the future of work and your presence and support of local communities. This can be done through sponsoring or co-hosting events.
These events include:
CPO Roundtables: Opportunities for discussions between CPOs and HR leaders to share perspectives and insights on various industry topics.
Community + Culture Events: A chance to connect with fellow community leaders in a more laid-back setting.
DisruptHR: An information exchange for HR leaders, business professionals, and community leaders interested in disrupting the workplace.
Work Now + In The Future: A virtual gathering with experts to share actionable ideas about work, talent, humanity, technology, and everything that impacts our work experience.
The Impact: Reaching new audiences, garnering event attendees virtually & in-person, and connecting with Director, VP, and C-level HR, people, culture, and business leaders.