Solution
Humanize Experiences
Transforming experiences for candidates, employees, and organizations.
Employee experiences are the macro and micro collective moments that impact us as we move throughout our workday. These moments can be positive or negative and can significantly impact our overall satisfaction with our jobs.
In today's competitive marketplace, companies need to do more than offer competitive salaries and benefits to attract and retain top talent. They also need to create a positive and engaging employee experience. A strong employee experience can help companies attract and retain top talent, boost productivity, and improve innovation. Our Humanize Experience solution offers that to our clients.
HR/People Teams have a significant capacity challenge today. Finding ways to automate and humanize the experience is the only way to get HR/People teams in a value-add position.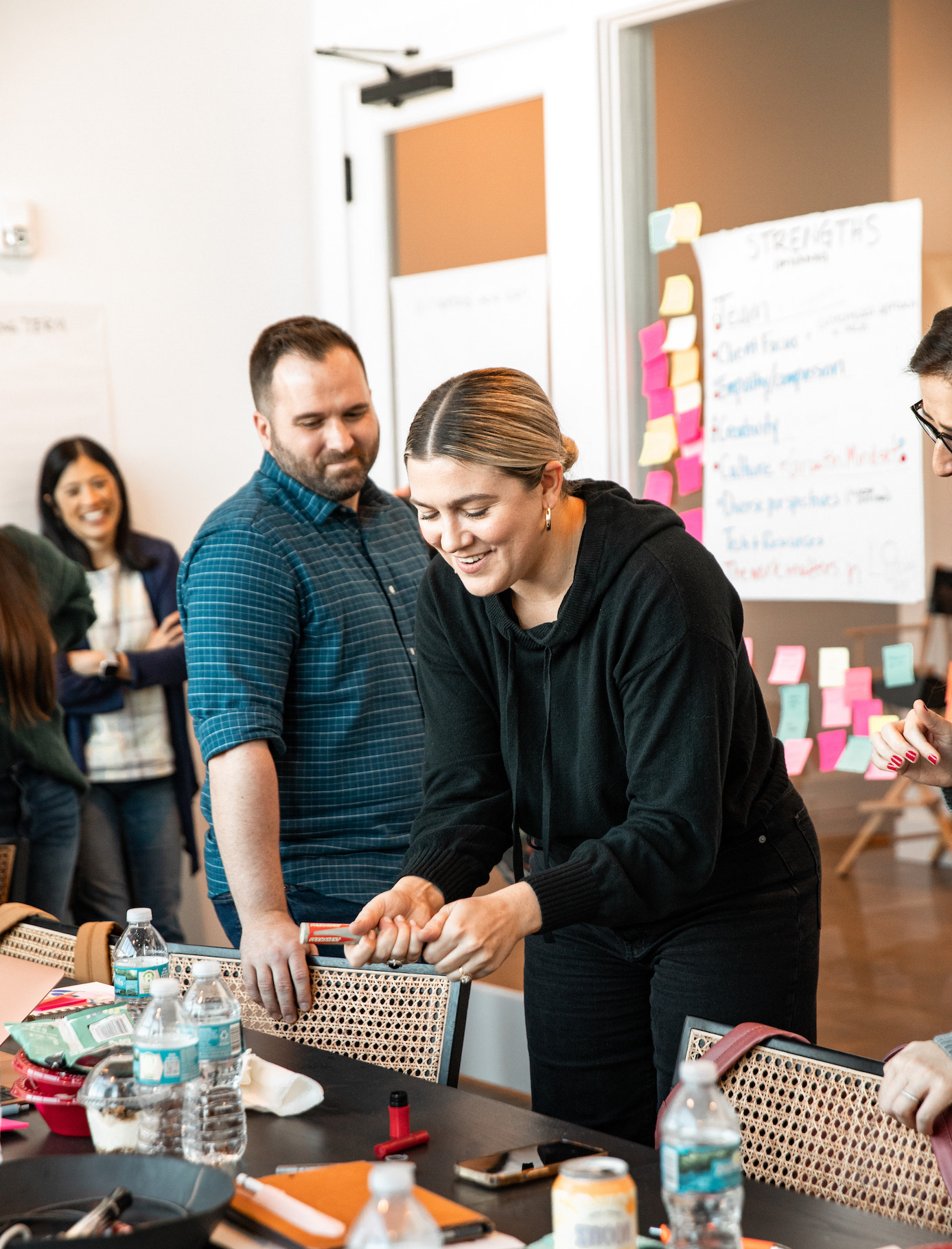 We know that your talent is the heart and soul of your organization. That's why we offer a comprehensive suite of services designed to help you attract, engage, and retain top talent.
Humanizing the Employee Experience
Transform Experiences
We help create positive and engaging end-to-end employee experiences in every phase of the talent journey that attract and retain top talent, boost productivity, and improve innovation for candidates, employees, and organizations. In our approach, the talent journey includes the entire day-to-day experience a member of your team has and the experience they have holistically throughout their tenure.
We partner to create a culture of engagement and belonging where employees feel valued, respected, and supported.
Optimize + Automate Employee Experiences
We help automate manual processes and empower leaders to create more human-centered experiences.
Employee Experience Mapping
Full discovery into Employee Experience and key recommendations and priorities by phase: attract, recruit, onboard, develop, reward, and transition.
Talent Persona Mapping
Mapping of full talent persona by unique role and key capabilities.
Talent Strategy
Develop a talent strategy based on your unique culture to best attract and retain critical positions.
Talent Brand Analysis
In-depth review of the current talent brand and recommendations from a candidate's perspective, including competitor analysis, reputation sites, job postings, competitor information, and career site.
Talent Communities
A Talent Community is a potential candidate pipeline pool that follows your talent brand—for example, alum groups, upcoming college grads, or people that aren't necessarily ready to apply.
Candidate Experience
We evaluate the attract and hire experience from a candidate lens. Provide tools and training to the organization's internal TA teams to ensure they use inclusive recruitment practices.
Employee Service
We optimize employee service, employee relations, ticketing, and care processes and practices to create ease, security, and a well-designed human-centered approach to employee care.
Onboarding Strategy
A full onboarding strategy development customized to your employee experience, goals, and company culture, including stakeholder listening sessions.
Performance Strategy and Experience Development
Beyond annual reviews that don't drive performance—full performance strategy development customized to your employee experience, goals, and company culture.
Total Rewards + Compensation Consulting
Discovery into current total rewards offerings, including document discovery, wellbeing inventory, and stakeholder listening session.
Full-service compensation support, from market analysis, building pay structures, equity analysis and developing your Compensation Strategy.
Customized Benefits Guide
Custom benefits guide, including design and content development.
Benefits Explainer Video
Benefits explainer videos for common benefits terminology and customized videos are also available.
Wellbeing
Customized projects using our WellbeingWx products to ensure your organization is effectively supporting whole-person wellbeing.
Work Design Readiness Assessment + Strategy – Virtual, Hybrid, In-Office
Full strategy and recommendations based on Work Design Assessment. Discovery into remote/hybrid work design. Includes survey, focus groups, and key recommendations by group.
Exit + Transition Survey and Process
Support with gathering information on exit survey data.
Learn More
Learn more about how we can help you create a positive employee experience that aligns with your company's culture and values and help you develop a strong candidate experience to attract the best and brightest employees.
Complete and submit the form below, and we'll be in touch with you soon!