Solution
Optimize Talent + Develop Capabilities
Leadership strategy that powers your business strategy.
To achieve your goals, you need the right team in place. We optimize your talent based on your organizational goals and strategic plan to meet your business needs.
We understand the capabilities your organization needs to execute your business strategy, and then we create a workforce ready to meet the complex business environment. We do this by conducting complete capabilities assessments, understanding your operating model and organizational structure, and building future capabilities so you can thrive in the present and future. Failing to do so can lead to overhiring or hiring the wrong mix of skills, leading to organizational failure.
For organizations that need a growth mindset, we help develop career and succession plans that support the organization's future state and learning and leadership frameworks that build new capabilities.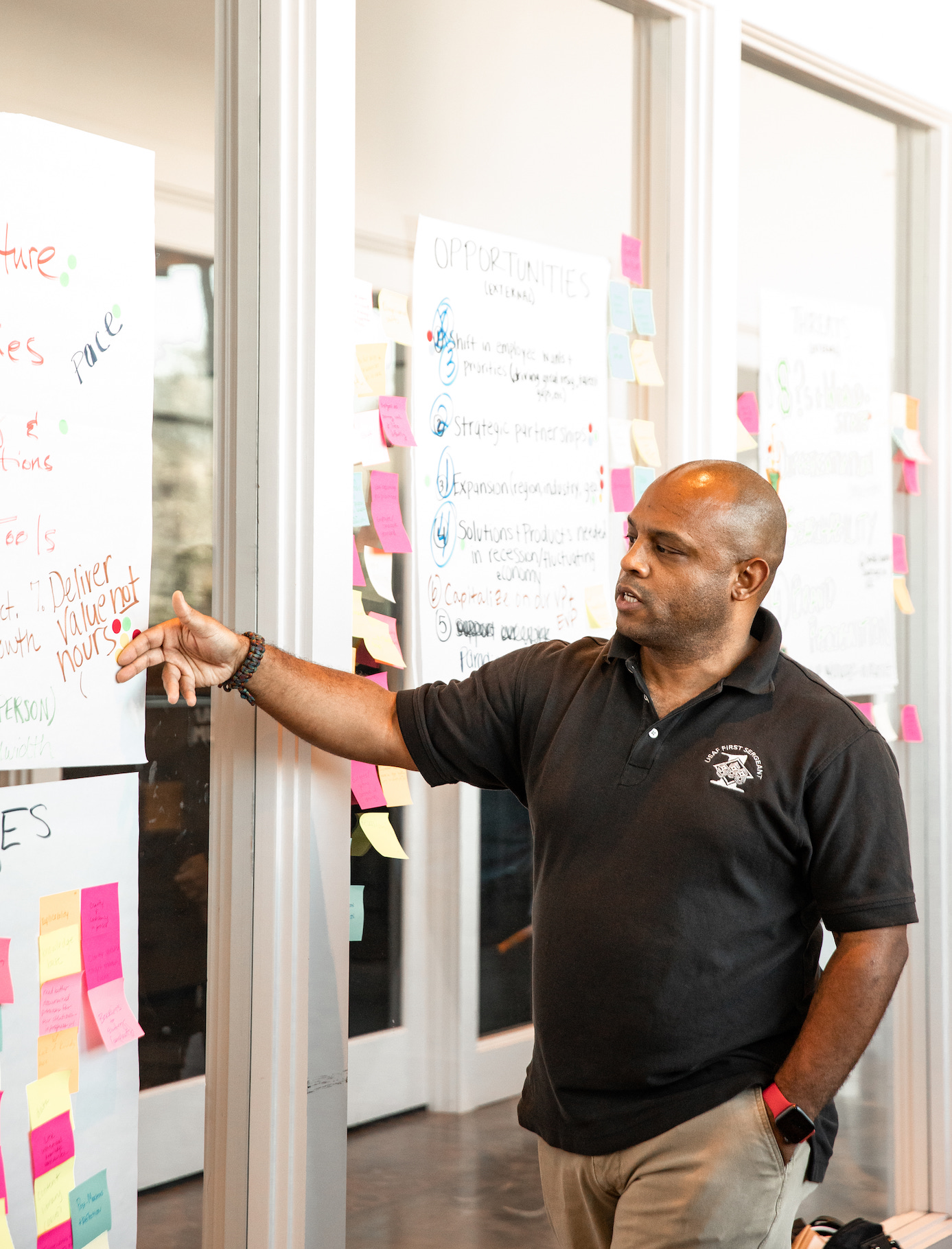 We'll partner with you to develop a customized plan that will help optimize your talent to meet the needs of your business and achieve your goals.
We start by understanding your organization's goals and strategic plan. This helps us identify the skills and competencies your organization needs to be successful.
We conduct a capability or needs analysis to determine your organization's current skills and competencies. We also conduct a job analysis to understand the requirements of each job in your organization.
We develop a model that shows different framework options and workforce models that could be used to optimize your talent.
We help you implement change management strategies to ensure your talent optimization plan is successful. We understand that change can be difficult, so we work with you to create a plan tailored to your organization's needs.
Strategic Workforce Planning
Forecasting for organizational workforce and recommendations.
Organizational Design
Review current organizational design and recommendations through a complete discovery and strategy.
Organization Capability Assessment
Discovery of key capabilities required for role/organization success.
Capabilities Framework
Customized guide by role (leader of self, team, and org.) for embedding defined leadership capabilities specific to people and business strategy.
Talent Mobility, Reskilling + Upskilling
Leadership training based on specific reskilling and upskilling needed for your organization.
Career Path Design
Design of career path by role/organizational design.
Succession Planning
Identification of recommended success plan by individual or role mapping.
Leadership Strategy Session
Offsite or virtual leadership session to determine organizational strategy and desired future state.
Leadership Capabilities Mapping
Based on your organization's unique culture code, we work with you to develop leadership capabilities for team, self, and organization leaders.
1:1 Executive Coaching
1:1 virtual coaching sessions.